In the last few years Portugal's reputation as the perfect holiday destination grew immensely. After decades of being deterred in favor of its larger neighbor Spain, Portugal has now hit the spotlight in the Tourism world and has changed the game completely. While solo or couple trips to the country are still highly popular, the number of families visiting is increasing with the passing years. And yes, any family group and any ages are welcome as there's always something to see and do for everyone!
From long beaches to historic cities, going through nature parks and ancient castles and monuments, there is a varied choice of entertainment for all members of the family of all ages. You can mix and match according to your preferences and enjoy a complete tour of Portugal which we are sure, will be an amazing experience for the whole family. Here are some ideas from us to you so that you start dreaming about that longed-for family holiday!
A taste for adventure?

If your family is the adventurous traveler type, backpack and comfy shoes on the go, you will be pleased to learn that Portugal has some incredible trails and hikes with stunning views of the country. Pack the essentials and come and learn about the oldest borders of Europe many times defined by ridged mountains or coastlines, deep valleys or incredibly long rivers. You can even say that walking and hiking through Portugal is a very comprehensive live lesson in History, Science, Geography, PE. and Botanic!Some of the best hikes in Portugal are the ones going across nature parks and if you are lucky, even some historical sites. There are different levels of difficulty so you can casually perambulating with the little ones but you will find it as easy to keep teenagers entertained exploring in these open air areas.
In Portugal there is one National Park only: the Parque Nacional da Peneda-Gerês (or Gerês for short!) a remote green area with unique fauna and flora and small villages keeping ancient traditions that was recognized by UNESCO as a World Biosphere Reserve. It is located a little over 1 hour North of Porto on the border with Spain and it offers a variety of possibilities in terms of nature exploration such as mountain hiking, horse riding, water canyoning and many others.
Having said this, there are multiple Nature Parks and Nature Reserves scattered throughout the country that are definitely worth a visit.
That is the case with places like Ria de Aveiro less than 1 hour South of Porto, offering one of the best sea walks or bike rides along the coast in Portugal. The Ria is a saltwater lagoon that will rise and sink with the tides and the best views of it are from the walkway between the small town of Esgueira and the one in Vilarinho, two neighborhoods of Aveiro. The incredible landscape is home to an array of bird species, including wading birds and the area is a favorite among bird watchers. If the children get tired or even a little fussy, things can easily go back on track with a quick detour to Aveiro's center, famous for its water canals and gondola-like boats, the Moliceiros, and for its egg yolk and sugar-based sweets wrapped in wafer in all kinds of ocean themed shapes.
If you and your family are into dramatic landscapes as if straight out of a fantasy book, then head East towards the center of the country, where the Serra da Estrela Mountain range is located. You will find here the highest point in mainland Portugal. The other highlights are the Lagoa Comprida the largest of the lagoons in the upper Serra da Estrela massif and the area around Covao dos Conchos an artificial lake hole to where the water cascades constantly as if into a spillway. The site is also known as a GeoPark, formed millions of years ago by glaciers, which have left fantastic irregular boulder fields, huge exposed slabs of rock and deep ravines to explore. There are many river beaches and lakes in the surrounding areas where we are sure kids of all ages (and their parents!) will love to spend the day diving into mountain waters or kayaking! The food is another important reason to come to Serra da Estrela. Among others, the local soft cheese Queijo Serra da Estrela produced here is a family favorite and we love to spread it over a thick slice of yellow corn bread, another hallmark of the region.
As you go down South and get near Lisbon you will likely notice a beautiful green mass surrounding the mountains of Sintra and facing the Atlantic Ocean. That will be the Nature Park of Sintra-Cascais which is a unique mix between natural attractions and historic sites. The town of Sintra is one of Portugal's most popular travel destinations. Everyone loves the small-town center filled with dreamy palaces and ornate gardens giving it is a truly magical aura with something new to see at every corner. There are hiking paths throughout the city to various castles and also to remote mountain destinations, making it one of the most beautiful hiking destinations in Portugal.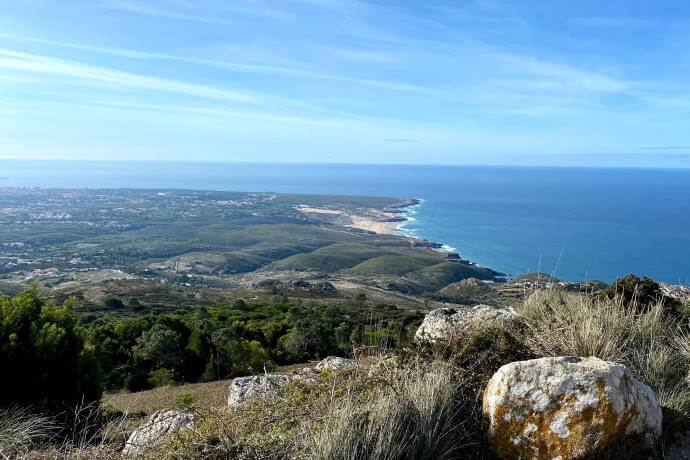 One of Sintra's best hiking trails is the one at Santuário da Peninha. This trail is an easy one even for small children as it loops around the remote Peninha Sanctuary to which you can drive. Once you are there you can pause and enjoy the delightful views of this rocky outcrop overlooking the Atlantic Ocean. In case you need a little something to get you going, stop at one of the old pastry shops in town and grab some travesseiros or some queijadas the most pouplar sweets of Sintra. You might want to pack a few and turn the outing into a picnic on the mountain or at the beach where a good swim just before lunch is in order!
If your plans include the South check the available hikes and activities in the Algarve. Part of the southern-most region of Portugal comprises a few nature reserves along with a variety of activities. This is where you will find some of the most incredible beaches with perfect waves for the practice of nautical sports such as surf and bodyboard. Seafood is one of the main attractions of the region and there are numerous restaurants peeking from the cliffs at every beach, serving it along with the freshest fish. Fishing trips and boat tours are widely available in the Algarve region. There is so much to do and the landscapes are absolutely stunning here with terracotta colored craggy cliff sides and the deep blue waters that crash against the rocky shores creating incredible sceneries. If the kids are insisting on a pool day, you can take them to one of the many water parks in the region or even pick a hotel with a spa for the whole family!
Home(work) away from home!
If your idea of a family trip to Europe is to cover as many historical sites as you can in a limited amount of time, then congratulations! You are in the right place! With a history that dates back to thousands of years, Portugal is home to some of the most beautiful castles and well-preserved monuments in Europe all within a scope of 800km (or 500mi) from North to South in mainland Portugal.
You might want to introduce the children to the Portuguese History by taking them to Guimarães which is considered the "cradle of the nation". According to tradition, it was in Guimarães that was born and baptized the man who, in 1179, would be crowned the first King of Portugal, the Crusader Knight Afonso Henriques. The castle and the cobbled streets of places like Rua de Santa Maria, Largo da Oliveira and Largo do Toural date back to centuries before that though! The city is so good at preserving its historic legacy that the center of town has won many national and international architectural prizes and was even declared World Heritage by the Commitee of World Heritage. The many quaint little cafes and restaurants in these old neighborhoods can be the ideal set to end a perfect day spent time traveling across the city!
Porto and Lisbon are the two main cities in Portugal. Lisbon is the capital city but they both present incredible opportunities to explore a more cultural side of the country while providing for as many fun activities. The main museums such as Museu de Serralves or Casa da Música in Porto or Museu Gulbenkian or Museu de Arte Antiga in Lisbon have inclusive programs and guided tours that will engage the whole family. Kids pay less if anything at all in most museums and exhibitions and there are there are travel passes for public transports with discounts for children and students. One of the good things about being in a bigger city is that chances are there's always some celebration, a festival or a special concert taking place somewhere in the cities' parks or other busy outdoor places such as Avenida dos Aliados in Porto or Praça do Comércio in Lisbon. The river areas by the Douro (in Porto) and by the Tejo (in Lisbon) are the places to be at sunset enjoying the particularly beautiful light of dusk falling slowly upon the river waters with a drink in hand. Both cities even have a variety of offer on river cruises for this purpose alone!
The triangle composed by the historical towns of Alcobaça, Óbidos and Batalha in the center of the country, is one of the most visited in Portugal. Walking along the millennia old ramparts in Óbidos overlooking the farming fields and the whitewashed houses around is quite the experience! If you are lucky there will be a festival going on: whether a medieval street market, or a Chocolate Fair or the Literary Festival, there's always something going on inside these walls for everyone's liking. Chocolate and Liquors are part of a combo that is very particular to Óbidos as even the cups where drinks are served are made of chocolate!
Further along you will find the Mosteiro de Alcobaça, a monastery built by the Cistercien Monks in the 12th century and that even after an earthquake and several fires still keeps its imposing air and incredible architecture. The inside is a unique testimony to the religious life within convents. After the visit it is impossible to resist the different traditional sweets sold in the many cafes and stores around the monument and whose recipes are based in convent recipes from centuries ago! Batalha means battle in Portuguese and this was indeed the site of one of the most important battles in the History of Portugal. The town gravitates around the exuberantly decorated Mosteiro da Batalha a masterpiece of flamboyant Gothic of the 14th century built precisely to commemorate the victory of the Portuguese at the time. The detailed façade is almost like a screen with images of times gone by. An excellent alternative to other screens, at least for the day.

When in the South, make sure the family visits the historic city of Évora a gem from the Alentejo and a favorite of the Roman Emperors from the 2nd century B.C to the 5th Century A.D when they built the structure of a capital so important that the remains of it are still visible throughout the city. Besides the Roman Temple the historic center of Évora still has very well-preserved medieval cathedrals, baroque churches and aqueducts. There are walking and bicycle tours available as well as tours to the countryside where some of the most exquisite table wines of Portugal are produced.
If when you think about the Algarve region all that comes to mind are the beaches then you might be headed for a surprise! Walk along the castle walls in Silves, along the bridge across the town in Tavira or inside the citadel in Faro and you will learn so much about the Muslim life of the South of the Iberian Peninsula in between the 8th and the 12th centuries. The flat roofs of whitewashed houses with beautifully decorated chimneys where white-chested storks come to nest and even the region's food traditions based on simple, locally sourced ingredients will certainly make you feel as if you are more than in a different country: rather in a different time.
We understand that traveling as a family can be a challenge especially when you are the one doing all the planning and need to take into consideration everyone's tastes and private bucket-lists. On top of everything else, Portugal is fertile ground for many different activities and interests as it presents a unique combination of natural beauty with a rich historical and cultural panorama. However, we can assure you that we at Portugal Trails will turn the process into a smooth, enjoyable one for you. With years of experience and many families catered for and happy the hassle is now gone for you. All you have to do is sit back, relax and start dreaming.
---
We are a local tour operator specialized in custom Self-Guided Tours in Portugal & Spain

Our local team will craft a tailor-made trip plan with an itinerary and a selection of hotels, activities and transportation based on your interests and budget. We offer a turnkey package and take care of all the logistics. While you are travelling, our local team is available by phone 24/7, so that we make sure you have a hassle-free vacation.

We also want to guarantee you have all you need when you are on tour. You will get a personalized roadbook with your day-to-day planning designed especially for you and an exclusive guidebook written by our team on Portugal with additional information. To ease the driving, you will receive a pre-programmed GPS with preloaded coordinates for all of the above.

We know sometimes life gets in the way, so all our tours are fully-refundable until 5 working days prior to your arrival – money back guarantee, no questions asked.

After we receive your enquiry, we will send you a free proposal, that can be changed as many times as necessary until meeting your expectations. Start planning your trip today!